This article applies to the following products:
Messageware EPG 2019

Messageware EPG 2016

Messageware EPG 2013
---
SYMPTOM
The behavior occurs after performing an Exchange Server Cumulative Update with the EPG Exchange component still in place. Users will experience the following:
Password failures are not recorded

Users do not enter tarpit after repeated failures

Users cannot see captcha and recent activity page
---
CAUSE
When the Exchange Server Cumulative Update is applied, the cumulative update overwrites and replaces different Exchange Protocol web.config files found in C:\Program Files\Microsoft\Exchange Server\V15\FrontEnd\HttpProxy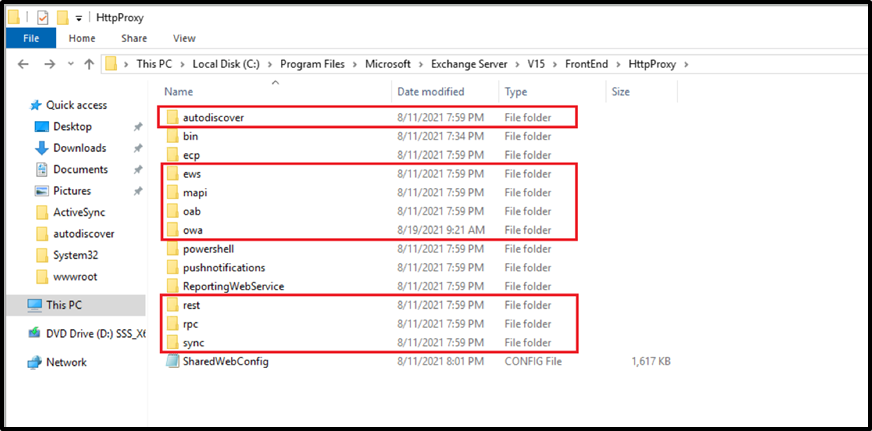 Example of a typical EPG module entry found on a web.config file.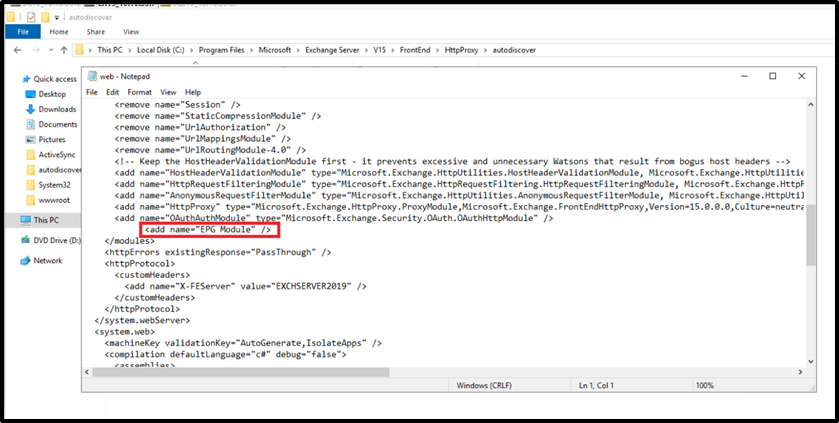 This error message can be found in Event viewer after the update has been applied

Event Viewer > Windows Logs > Application

The error will be generated from Messageware Service ID1001.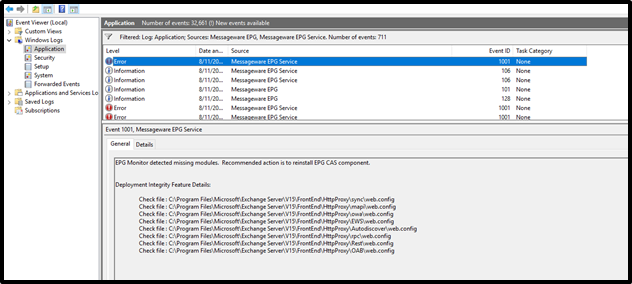 Error Message:
EPG Monitor detected missing modules. Recommended action is to reinstall EPG CAS component.
Deployment Integrity Feature Details:
Check file : C:\Program Files\Microsoft\Exchange Server\V15\FrontEnd\HttpProxy\sync\web.config
Check file : C:\Program Files\Microsoft\Exchange Server\V15\FrontEnd\HttpProxy\mapi\web.config
Check file : C:\Program Files\Microsoft\Exchange Server\V15\FrontEnd\HttpProxy\owa\web.config
Check file : C:\Program Files\Microsoft\Exchange Server\V15\FrontEnd\HttpProxy\EWS\web.config
Check file : C:\Program Files\Microsoft\Exchange Server\V15\FrontEnd\HttpProxy\Autodiscover\web.config
Check file : C:\Program Files\Microsoft\Exchange Server\V15\FrontEnd\HttpProxy\rpc\web.config
Check file : C:\Program Files\Microsoft\Exchange Server\V15\FrontEnd\HttpProxy\Rest\web.config
Check file : C:\Program Files\Microsoft\Exchange Server\V15\FrontEnd\HttpProxy\OAB\web.config
No captcha at OWA Login :
---
SOLUTION
To resolve this behavior follow the solution:
Re-install the EPG Exchange component on each Exchange Server. This component is named according to the major version of Exchange:

Messageware_EPG_2019_v

Messageware_EPG_2016_v

Messageware_EPG_2013_v
Re-install the EPG Exchange component by following the steps:
Stop and disable the World Wide Web Publishing Service (W3SVC)

Navigate to where EPG installation files are located.

Right-click on the EPG exchange component and run with elevated permissions

Once the installation is completed, restart the World Wide Web Publishing Service (W3SVC)
Re-installing the EPG CAS component on each Exchanger Server will add the modules back in the web.config file and after the services are restarted EPG functionality will return to normal. To verify EPG functionality:
Clear browser cache and launch OWA

On login, captcha will be visible now